Homeowners know their kitchen is the heart of their home and the place where family members and friends gather to talk, cook together and then share the experience of eating. While this idea isn't a new one, the way the kitchen itself looks doesn't stay stagnant.
Over the past several years, trends in kitchen designs have changed. Cookware trends have also evolved over time. As tastes in flooring, appliances and cabinet styles and colors have evolved over time, so have preferences in cookware trends.
Now, we're seeing cookware drawing influence from various sources, including the current Pantone Color of the Year, as well as specific types of looks and finishes. Other sources of inspiration for cookware trends include elements found in nature and whether cookware is comfortable an easy to use.
Trendy Cookware Colors Draw Inspiration from Multiple Sources
Attractively-colored cookware makes meal preparation a much more pleasant task. At one time, pot and pan lids and handles were only available in basic black. Now, consumers have much more variety to choose from, making cookware more of a kitchen accessory than for previous generations. The colors that find their way into a cookware color trend can come from a number of sources. Let's look at where recent cookware trends have found inspiration. All of these sources come together to create wonderful trends that create plenty of choices for consumers in the market for cookware right now.
Pantone Color of the Year
One place that has inspired cookware colors has been the Pantone Color of the Year. The Pantone Color System is the most significant color matching system used worldwide. First developed in 1963 to solve the complicated problem of matching colors in the printing industry, Pantone's color catalogue became the easiest and most convenient way to match specific colors and tones. Each one was given a number, making "getting on the same page" when talking about colors much easier and more convenient for the print, textile, paint and plastics industries.
The Pantone Color Institute began selecting a specific Pantone Color of the Year in 2000. The Color is in December each year and is used as a concept for marketing and branding across multiple industries, including cookware.
The Pantone Color of the Year for 2019 is called "Living Coral." This shade is described as "an animating coral hue with a golden undertone that energizes and enlivens with a softer edge." This shade was selected to represent a number of themes, including energy, a sense of playfulness, a need for optimism and the desire to connect with nature.
F.B.M. just released Pantone Color handles which really look amazing in this Living Coral tone! You can decide to match it with a same color cookware or make it a contrast with a plain non-stick pan, but the handle effect is totally surprising, warm, young and eye catching, the consumers won't just pass by.
The Living Coral Handles can come in soft touch, glossy or matte effect and it can be applied to any handle, side handle and knob design that you like.
Metallic Effect
Copper, with its warm finish, is a very popular trend in cookware at present. Its reddish-brown color is being featured on all types of kitchen decor, such as sinks, faucets and light fixtures. Some homeowners are even going so far as to incorporate this look into their countertops!
Silver & steel tones are always seen as a design and practical choice for home accessories. Homeowners who want to complete a modern kitchen design may choose this material for their countertops, due to its nonporous nature and antibacterial properties.
As a cookware color trend, metals are always a popular choice for consumers. They are considered a classic, no matter what the current taste in kitchen decor happens to be. F.B.M. offers an extensive selection of handles and knobs fashioned in various attractive combinations of metallic colors as well as with stainless steel or chromed insert.
Matte Finishes
If you want to discuss the latest cookware color trend, you also need to consider what types of finishes are popular. Today's homeowners are looking for finishes that remind them of the natural environment. High-gloss finishes on surfaces that require a lot of upkeep are giving way to more matte finishes, since they don't tend to be as high maintenance. When a homeowner is spending less time on home maintenance, there is more time for family, friends and relaxation.
Ultra-matte finishes will continue to be a leading trend in pot and pan handles. Black and white are always popular choices for consumers who want a classic look and feel to their cookware. Tones in the coral, copper and red families tie in very nicely with the overall theme of making cooking a warm, fun activity. The matte finish keeps the color in check and doesn't scream "Look at me!" in the same way that a shiny version would. This is one cookware color trend we think consumers will appreciate.
Natural Look Popular for Materials
1- Stone Finish Offered in Several Effects
One of the cookware trends that proves that some things never go out of style is the popularity of stone finishes. This look fits perfectly with the current popularity of incorporating natural elements into the indoors. Having pots and pan handles with the look of natural stone is an unexpected and thoroughly creative way to incorporate this idea into the kitchen.
If you're interested in exploring the idea of a stone finish for either a new line of cookware or updating a line you currently carry, F.B.M.'s team of experts can help you find the right solution for your market as well as your budget. Whether you are looking for handles that can match with the internal stone coating of your cookware or you are looking to a more effective marble style handle, F.B.M. can help.
2- Warm up to a Wood Finish
Designers know that using a wood finish is an easy way to bring nature into an indoor space. They can use various materials to incorporate the appearance of various types of wood, including domestic and exotic ones. Depending on the type of finish selected, wood can be part of a rustic, homey theme or a highly sophisticated one.
Are you considering a wood finish for your next line of cookware? F.B.M. will provide assistance to find the exact type of wood finish to complement your pots and pans. You know you wouldn't want to pair an exotic wood handle with a budget-friendly line of cookware. At the same time, you also don't want a wooden handle with a rustic look placed on a high-end line or product. They simply wouldn't work well together. F.B.M. has several different wood style you can apply on various handles design up to your preferences.
Superior Silicon Finish Means No Sacrificing Soft Texture for Quality and bright colors
Silicones are specialized, high performance and they are used in thousands of products to make them resistant to both high and low temperatures. Silicones are moisture-resistant, flexible and perform well when exposed to other chemicals. Products made using this material are easy to use, highly durable and visually pleasing.
F.B.M. knows that consumers don't want to give up texture for quality when it comes to their pot and pan handles. Thanks to high-quality silicone, they don't have to make that choice. This is one of the cookware trends that is probably not going to go away anytime soon. There will always be a market for high-quality silicone handles that are soft to the touch and have bright original colors, and F.B.M.'s manufacturing process includes moulding the silicone over thermosetting compound to give you un unmatchable result for the the contrast of the two chromatic effects coming from the two different materials perfectly matching together.
Functionality and Ergonomics Important Factors to Consumers
1- Functionality Trend for the Heart of the Home
One should never forget that a kitchen is the heart of a home. It's a place where a lot of activity occurs on a daily basis. It's important to ensure that the kitchen evokes a warm, inviting atmosphere while remaining functional. It's a place for making memories that revolve around talking, sharing ideas, preparing and eating food.
At F.B.M., we understand that today's consumers, especially Millennials, have times where they want to make meal preparation an experience. They enjoy all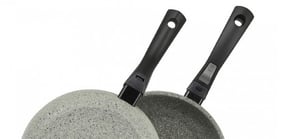 aspects of cooking, and they want to use the best ingredients they can afford to make a meal a thing of beauty. To that end, the cookware they use must be highly functional. When an enthusiastic amateur chef is busy creating, they don't have time to worry about the quality of the pots and pans — or their handles.
2- Multi-functionality Appeals to Modern Consumers
Multi-functionality is something that definitely appeals to modern consumers. They are looking for items they can use that will make cooking an easier process. Many people in the Millennial Generation have grown up watching cooking shows on television, and have been wooed with the idea that cooking is relatively easy and a relaxing pastime. TV chefs have access to the best kitchen equipment, which makes viewers want to have similar items in their homes, including ones that can perform more than one function.
F.B.M. is aware that Millennials are the Masterchef generation. They can recognize a quality product when they see one. They know whether a particular product will be useful in the kitchen and whether it will perform well or not. We take great care to this target group and try to develop handles that can satisfy them and help them enjoy their kitchen product and the moment while they use it.
3- Ergonomics: an Important Consideration for Handles
With consumers spending more time preparing meals at home, ergonomics become an important factor when choosing cookware. No one wants to use a set of pots and pans with handles that don't feel comfortable to use on a regular basis. If the handles don't feel comfortable enough for daily use, the cookware is going to be relegated to the back of the cupboard. Eventually, it will be given away or thrown out, with the consumer vowing never to buy that brand again.
F.B.M. is dedicated to providing ergonomic considerations to provide the maximum level of comfort during cooking. Our products are developed to protect users from burns and with a view toward safety in a broad sense. We want consumers to buy our brand with confidence.


F.B.M. is with you Every Step of the Way
F.B.M. is ready to partner with you from start to finish on your next project. We can offer you an exciting catalogue of more than 100 items to choose from, as well as consultation and design services if you would like to discuss a custom solution based on your individual needs. We track cookware trends to keep a finger on the pulse of what the market is interested in so that we can bring exciting and relevant solutions to our clients.
In fact, we'll be sharing what we've seen at the latest trade fairs soon. You can look forward to reading about the latest cookware color trend, news and more!
If you have questions about a particular cookware color trend, either locally or in a market on the other side of the world, just ask. With multiple locations, we will be able to advise you about what is popular in markets near and far.
F.B.M. has been in the cookware accessories business for more than 50 years. We're very proud of the relationships we've built and the clients we've been able to serve. Kindly contact us by phone or email to arrange your personal consultation.