The home space has become even more important in the last years, with people giving more attention to cooking at home. This translates into a growing interest in the research of products that can stand out and be of value.
The focus needs to be kept firmly on the consumer and his needs. Intercepting and monitoring all the touchpoints, knowing buying habits and consumption preferences, is crucial to form a detailed picture of the ideal customer you are trying to attract.
Once this target market has been established, then the focus becomes what type of product to make.

Look at Latest DESIGN Trends for Inspiration
When working on your new cookware collection the latest trends in cookware, homeware, and global consumption can support you in your decisions. Here a review of latest insights that can draw your inspiration:
GREEN ATTITUDE: Consumers value the impact an object can have on the environment and this makes sustainability tremendously important right now. On a global scale, they are increasingly sensitive to society, health and environment. New interesting materials are coming to the market, made from natural and sustainable elements (recycled aluminum, wood, natural Ecosystem or dye-free Look At Me).
DESIGN FOR WELL BEING: Consumers are interested in wellness products and services. The pandemic is drawing them toward feel-good products as opposed to accumulating "stuff." They want to choose products they feel will improve their overall health and wellness. FBM recently launched a new compound for handles that increases the safety and hygiene of cookware, supporting customers in the search for protection and quality products both is store and at home. Discover all feature and advantages of Active Shield.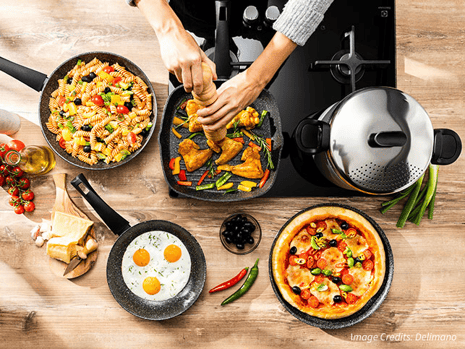 SPACE AND TIME: Products improving life that are engineered to offer functionality, being smart and enhance the user cooking experience.
HEALTH IN THE KITCHEN: Cooking today is a question of health and lifestyle. The modern nutrition philosophies require cookware made from safe materials and able to retains all vital nutrients while prevent the proliferation of bacteria. For a healthier cooking rise the bar on the quality and hygienical features of your next cookware with F.B.M. ACTIVE SHIELD.
USE THE LATEST COLORS AND PALETTES TRENDS
Neutral: Consumers are drawn to natural tones in their homes as a way to relax and reduce stress. Neutral tones and pastel shades are thought to create feelings of calm and serenity.
Pastels: These colors combine the need for calm and quietness with warm vintage shades that are light and fresh.
Nature Healing: This group of colors is reminiscent of sustainability. Its soothing tones create a harmonious background drop that connects the occupant of the room to the outdoors.
Pureness: The Pureness color group satisfies the consumers' need for cleanliness and reliability. These tones have a futuristic quality about them.
If you want to know more about the latest color trends in cookware, read our dedicated article.


Functionality Importantance
"Smart" kitchens, where appliances and accessories help you with cooking, tracking grocery items and even make coffee, are becoming more and more popular. Kitchens are becoming more efficient, with storage space at a premium.
Pots and pans with special features, such as detachable handles give consumers the flexibility to store their cookware in the way that makes the most sense for their kitchen layout and save space and time.
Products that claim to make life easier and save time will grab the attention of consumers.
Adapt Trends to Target Market
When developing a line of cookware, an effective strategy is to gain inspiration from emerging trends and rework them to fit your product and target market. The Wood and stone effects have not fallen from year to year. They can be interpreted in different ways and fit the current interest in using eco-friendly materials.
F.B.M. YOUR COOKWARE HANDLE SUPPLIER
F.B.M. enjoys collecting insights and experiences from all over the world, captured by constant sharing with main cookware players and by continuous training. We are an international group that have relationships with local companies and can bring in a global market view and perspective focusing on cookware.
We believe a user can have a unique cooking experience through the accessories and we put maximum effort in constantly innovating and providing new solutions for lovers of cookware trends.
Contact us today to arrange your personal consultation and discover all the new products that correspond to these trends!