When making a decision to buy or produce a new collection of quality pots and pans, finding the best accessories is not so easy.
We have always welcomed the challenge of keeping up to date with changes in cookware trends. And we fully understand why cookware handles are important and strategic in this context!
For this reason, we are suggesting here following a few proposals that combine functionality, safety and design including our latest models from F.B.M. Italy
MADE IN ITALY
MO EDRA + MA VELA + PO 810 SET
This is a set that combines the latest in cookware handle design with functionality and safety: a perfect appeal for the consumer.
The EDRA handle is completely Italian Design and patented to protect and support our customers. This handle is solidly built with a full underneath design, a characteristic innate of high-end products thanks to their ergonomic function. It pairs very well with the MA VELA side handle. MA VELA has an excellent grip that accommodates the entire hand for a comfortable and easier hold for ergonomics.
The set is completed with knob PO 810, also known for its great functionality and F.B.M. iconic product.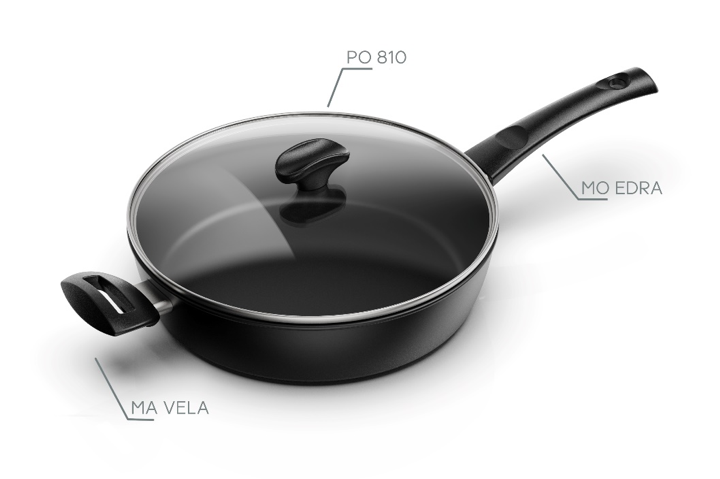 MO ROCKET + MA FLY + PO DALIA
A set that stands out for its immediate vivacity and character for its ROCKET handle. The handle of this set, ROCKET, has a special feature that sets it apart from any other product: it has a plectrum design finger-rest that gives the user the best hand support and works as a protection for the finger thanks to its corner shape.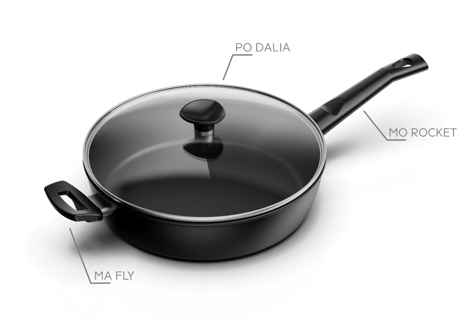 This characteristic has been engineered to offer a special support to the hand during cooking, thus providing comfort and extra safety. The underside of the product has a rounded, flared shape. This feature gives ergonomic support to the hand making it comfortable when lifting a full heavy pan through the handle, without pressing your hand. Mix handle Rocket with side handle Fly to enjoy more squared and clean lines. The set comes with the petals design of knob Dalia which fits perfectly thanks to its finger rest and upper hole shape.
Cooking is a pleasurable activity, that many people enjoy and color influences 50-85% of purchasing decisions; we are strongly affected by colors.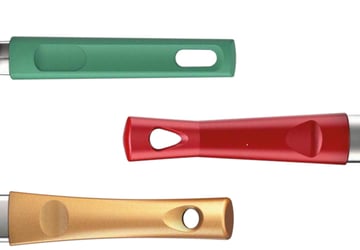 With that fact in mind, F.B.M. can offer you the above two sets in a wide range of color options to inspire and match your styles.
MO 260 + MA 250 TO BE RIVETED
This handle refers to those products that are mainly oriented towards a competitive market. Here we can say that riveted handles are a best seller. They are suitable especially with pressed-aluminum products which are very popular in mass-distribution.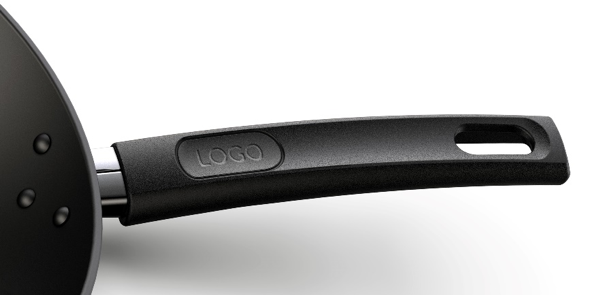 A brand-new compelling riveting product of great impact for its linear and elegant appearance: MO 260. Its design makes it a very versatile product because it also allows customer's customization. The Handle 260 stands out thanks to the closed bracket, which is a patented innovative fixing system that upgrades the handle to a superior premium quality product among the first lines of riveting handles.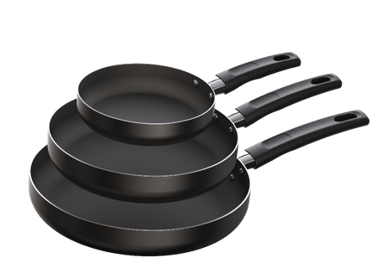 The handle has a square and geometric design, which makes it a classy and elegant model ideal to combine with trendy collections of pots and pans. Handle 260 complies with European regulation for cookware EN 12983 and is further verified according to F.B.M. Quality Management System.
To complete the set, we suggest combining it with side handle MA 250.
MO VIRTUS + PO COMPACT FOR SPACE-SAVING SETS
We propose an exclusive set that is characterized by maximum functionality and space-saving capacity. The set is composed by the brand new VIRTUS REMOVABLE handle, a high-value accessory oriented towards functional and refined cookware lines. VIRTUS stands out for its unique design and the brand-new detaching system.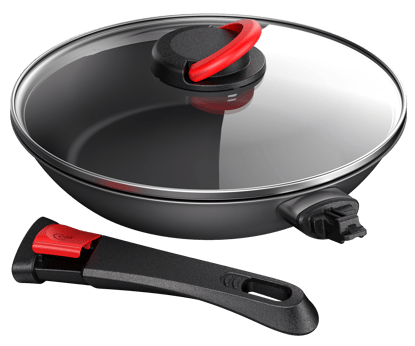 VIRTUS does not have a push button like most pull handles; instead, an insert completes the handle. Its innovative release system has a high temperature resistance fixed frontal part, which makes it suitable for cooking in the oven.
For a truly unique and total space saving solution, complete the set with a special space saving knob COMPACT. This knob folds down and flattens to allow for easy storage in and increased functionality. It actually "disappears" in a kitchen drawer, cupboard or dishwasher, minimizing the amount of space required when storing it.
For a coordinated set you can play by using the same matching color for knob arch and detaching insert. This set is a definite advantage for consumers who never seem to have enough storage space in their kitchen and look for smart, functional, safe and beautiful products.
F.B.M.: YOUR INNOVATIVE SOURCE FOR COOKWARE HANDLES AND PANS
Our company works with the largest producers of cookware in the world. With factories located around the globe, we are confident that we will be able to meet all your requests with specific sets for every need.
F.B.M. never stops innovating. Keep following us, in the next article we will be revealing the new cookware lines for the Chinese market.
Contact us today to arrange your personal consultation.