When consumers are looking for new cookware, design and ergonomics are key elements influencing the buying decision. The cookware handle is an element that the user will be constantly interacting with when using the product. Depending on the type of frying pan, saucepan, casserole (and, of course, the lids included with the cookware set), different type of handles are used. The pot handles are selected to provide a good match to the diameter and shape of each pot.
What Type of Cookware Handle Should you Use for your Pots and Pans?
Some general rules apply when you are making decisions about the type of cookware handle you want to use for your pots and pans:
For shallow pots and pans such as frypan or grills, longer handles are used. They can have two different sizes (a longer handle and a smaller one), according to the diameter of the pot. Usually, pot measuring wider than 20 cm in diameter use longer handles.
For deeper pots, such as casseroles or bigger sauce pan, two handles are used. This option is best for larger capacity pots, since they give the user a better ergonomic support. Moreover, two side-handles also distribute the pot's weight evenly when the user wants to pick it up. This is especially helpful when the pot is full of food or liquid. According to the height of the pot, the fitting can be two side handles, or a side-handle and a longer handle.
For lids, a knob is needed to correctly and safely hold the lid from the pot. Knobs can be in different materials and with lower disk base or without according to the design and positioning.
Fixing Methods for Pot Handles
Handles and side handles can be attached to the body of the pot by using one of the following main fixing methods:

1. Handles with flameguard

Fittings with flame guards enjoys a protective metal rings as fixing support
These handles can be clearly identified by a metal ring that completes the product's design
A flame guard makes a definite aesthetic statement in pot handle design and it can vary differently to characterize the overall shape of the handle
They are screwed to the body of the pot to fasten them securely in place
Thanks to this fixing system they can also be suitable for replacement
The underneath fixing system can we welded or riveted to the cookware body
Every flame guard is studied ah-doc to perfectly match the handle with the cookware body
These type of fittings are especially common in the European market due to their design and matching with the pot body
F.B.M.'s latest lines of flame guard cookware handles includes EDRA, ROCKET, NIKA, ALFA and CHEF, POLO and PRO.
2. Riveted Cookware Handles
This style allows the handle to be firmly attached to the pot with visible rivets both inside and outside the body of the pot.
Handles and side handles can be riveted with two or three rivets of different diameters
The fixing bracket can come in different materials according to the level and positioning of the fittings
Common materials are stainless steel and galvanized iron
Shape and design of the riveting fixing systems vary widely according to the desired design and manufacturing technique used
Riveted cookware handles are especially popular in the American markets
Examples of F.B.M. latest riveted products are handle 260, handle 210, side-handle ROMA, side handle 250, and MILKY HANDLE for a kettle.


3. Removable Handle
Removable handles and side handles are designed to be detached from the body of the pan. They offer the consumer several functionalities, such as space-saving and the versatility of moving from stove-top to oven during cooking.
The detaching system must be highly secure in order to guarantee a safe functionality while allowing the removing of the handle.
Detaching system are usually patented due to the high level of innovation and engineering process to develop them

Solutions for Knobs and Lids
Whether you are using glass or metal, you need to have a very ergonomic grip on the lid. It is a component that is removed and replaced from the pot body multiple times during cooking.
The knob is screwed to the cover using two methods: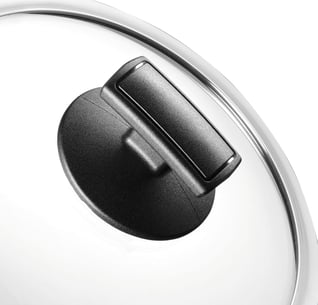 With a threatened screw
With a self-threatening screw
Knob for lids can also vary in term of design:
Solutions for Materials
Thermoset handles have the great feature of being a stay-cool handle. They don't overheat and you don't need to have a pot handle holder when using them since they will not conduct heat from the cooking surface to the user's hand. Moreover they can be coated in uncountable tones of colors and different effects. For this reason, they are perfect for home cooking.
Steel handles, due to the conductivity of this material, are subject to overheating during cooking. For this reason, they may require to use a pot handle holder when in use. Although aesthetically very beautiful, this can be a limit in every day home cooking.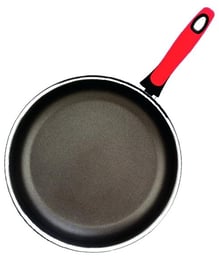 Silicon handles allows for thermal insulation and a soft sensation for the grip. F.B.M. has a unique line of cookware handles that over mold silicone on thermoset handle. Thus works like having a built-in very soft pot handle holder and the silicone is available in 20 different colors.
For all these categories there are different product positioning categories: entry-level, medium, high level according to design, material, and product structure.
We have different handles products available in each category to match all type of pot and material.
F.B.M. is Your Choice for Quality Cookware
When you want the best in design, innovation, certified quality and (of course) range in cookware handles for pans, look no further than F.B.M. We have been in business for more than half a century, and during that time, we have been working with customers from various locations worldwide.
Our focus has been on providing high-quality products without sacrificing one ounce of creativity.
Contact us today if you have questions about any of our products or to arrange a consultation.